What Are Some Tips For Choosing a Wedding Photographer?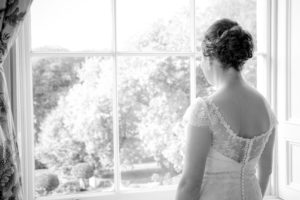 It seems that most everyone these days has a fancy camera and is offering to shoot weddings with it. But, there is something to be said with, "you get what you pay for." So it's important to know what to look for, and what to avoid, when deciding on a wedding photographer. After many years of photography weddings, I managed to pick up a few tips that might help you, when looking for a wedding photographer. Here is some advice to help you in decided who to hire when choosing a wedding photographer, by someone who knows the business.
Professionalism
The wedding photographer will most likely be around the bride and groom more than any other person on the wedding day. It is important that the photographer has a personality that they enjoy being around.
Some photographers are casual and laid back about everything while some are a little more controlling at running the show. The casual laid back photographer is most likely not going to get in the way much and is going to capture the candid shots that everyone loves. The more controlling photographer is going to be able to get people where they need to be and set up some perfect shots for the fireplace mantle.
Most photographers probably fall somewhere in-between the two. There are also other personality types such as the overly friendly person vs. the quiet person. No one personality is better than another: it's all up to the bride and groom to decide who they want to spend the day with. Also some studios will hire other photographers to work for them. When having the consultation with the studio, identify if that person will be photographing the wedding or someone else, and ask to meet the person who will be there on the wedding day.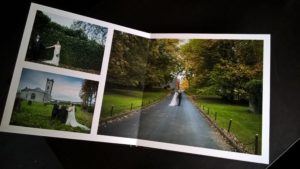 Albums
If buying the optional book or album, check the quality ahead of time. Will people be able to flip through it years later? Will it hold together? Does the photographer do a good job of using the album to tell a story of the wedding day? These are all things one should consider before making a purchase.
If photographic prints are provided, what type of paper and inks are used? Does the photographer do the prints or do they send them to a quality lab? If a disk or flash drive is provided, what is on the disk or flash drive? For example, do they provide high-resolution JPG files that the clients can use to make prints later? Or are they low resolution, which will only work on websites but won't create a quality print?
There is nothing wrong with the photographer limiting what is in the initial package and charging more for extras like a full resolution disk or additional prints. Just make sure to ask questions, understand the order, and that everything is documented in the contract.
Sample Work
Photographers are only going to show people their best work. Since most photographers do online galleries, ask to get a link to a couple of other client galleries. Look through and see what the overall portfolio looks like. This has an additional benefit of setting your expectations as well. Realistically, not all photographs taken will look like they belong on the cover of a bride magazine.
Style
Most photographers to do a combination of "candid" and "formal" pictures. Are the formal shots posed in a way that you will be happy with? Do the candids look natural and memorable? The style of the photographer should match the mood of what you imagine for your wedding memories.
Thanks to Photoshop and ever-changing technology, will the pictures be cool-looking now, but dated later? Think glam shots from the 80's. Or perhaps the current trend of over-sharpening peoples eyes.
Price
It's important to set a realistic budget for a photographer. Once that budget has been set, make sure to understand what is being provided by the photographer for that price, including the cost of any extras. Examples of extras include: extra time, additional prints or disks/flash drive, albums, and more.
Photographers don't just charge for a product, they charge for time, and that needs to be taken into consideration by you when hiring a professional. Processing pictures and creating albums are all time put in after the wedding day.
References
Popular wedding sites will often tell people to get references but, for the most part, I don't see the value in them. Photographers aren't going to provide a reference to someone who is dissatisfied with their service. There is no way to verify who the person providing the reference is and how true it is, so why bother wasting time?
Number of pictures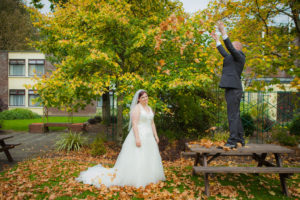 With digital technology the number of photographs taken at a wedding are too numerous to use. What is really important is the quality of the photographs received. A photographer can take a thousand images at a wedding, but if only 10 of them are any good, it's kind of a waste.
No Experience
Try to avoid finding someone who just bought a digital camera and is looking to make a little money on the side. Yes, this will cut down on the overall budget of the wedding, but the quality of the product and quality of the service will most likely reflect as such. Everyone has to start somewhere and gain experience. But for photographers this can be done via classes and as an assistant for other photographers. It doesn't have to be at your wedding.
There is a lot of stress on a wedding day for everyone involved and it is important to have someone taking the pictures who has worked with other photographers and knows how to deal with situations as they arise. By having an experienced photographer, there is one less thing for the bride and groom to worry about.
To Summarize
There is a reason a professional photographer's album looks better than one an average person might create using an at-home template. There is also a reason a professional's picture looks better than an amateur with a newly purchased digital camera. Even so, it is important to balance quality with the cost of service because, at the end of the day, the cake will be eaten, the flowers will rot, and the memories will fade, but the photographs will last a lifetime.
With so many wedding photographers to choose from, there is no reason to settle on a photographer that isn't going to be exactly what is wanted. Sometimes personalities match, and sometimes they don't: there is nothing wrong with acknowledging it. A photographer shouldn't take it offensively if a client chooses not to book them. But they might ask why. If they do, be honest and be polite. If they are any good, they will take that feedback and use it as an opportunity for improvement.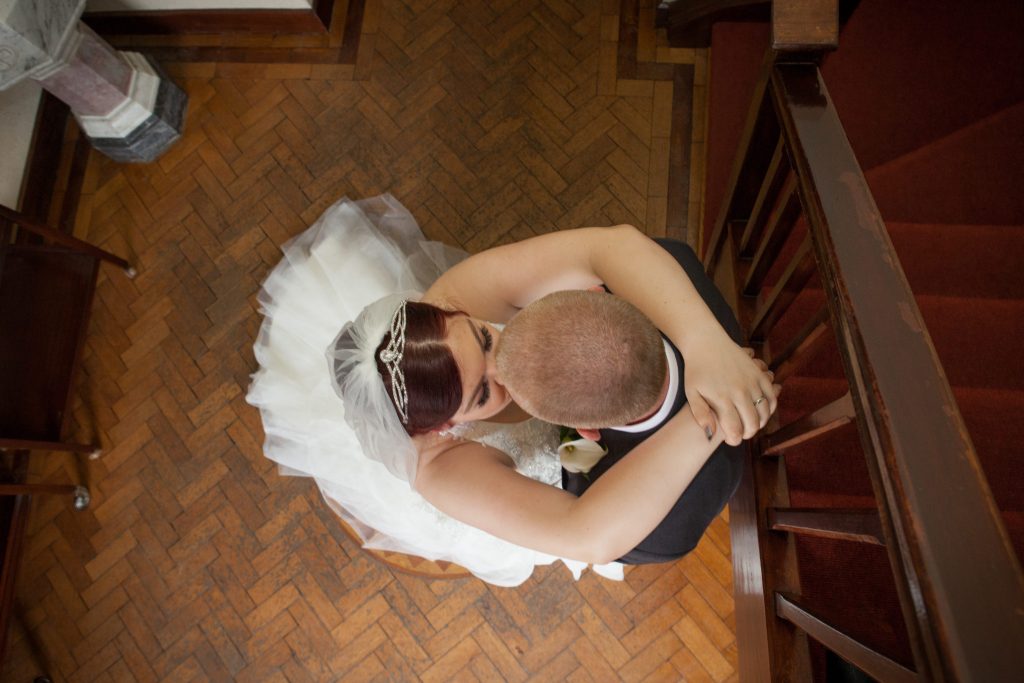 Tags In